The Angel within presents the Peels Place Extravaganza.

"Be an Angel for a Day"

Raising money for the Children's Ward of Albany Regional Hospital

Radio West Live Broadcast and over $8,000 worth of prizes thanks to the generosity of Albany Businesses. Raffles and Mystery Auction, PLUS much more!

We wil be there for the day with the Big Red Fire Engine. Rides will be $3 per person for a short trip around the town on the Fire Engine.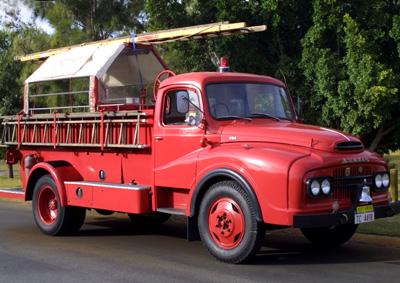 Also performances by Tara School of Irish Dance, Evocation Dance, Drumming, Middle Eastern and Tribal Dancing.

Jumping castle, Bungy Jump Trampoline, Face Painting, Clowns, Ballons, Sausage Sizzle, Shrek and Fiona...and of course the Big Red Fire Engine
Yes, it's over for another year! Fabulours day. A beautiful warm and sunny winter's day with an amazing line up of Classic Cars. Congratulations to all the organisers and people that made it happen. It really does get bigger and better each year.

This is our last event until after Winter, we won't be at the beach until the Christmas school holidays, but of course tours and joyrides are still availabe by booking direct. Phone Julie on (08) 9842 2468

Down Under Harley Tours

The Big Red Fire Engine is still operating all year too. TIP: The weather protection cover on the Big Red Fire Engine makes it perfect for those cooler winter days.

Big Red Fire Engine
It looks like a lovely fine weekend for the Albany Classic this year. Ideal for spending some time on the great cyclepaths along Middletone Beach, Emu Point and the Boardwalk. If you are planning on hiring a bicycle this weekend I storngly suggest you phone and book ahead.

Free bicycle delivery and pick up to your accommodation in the Albany city area, Visitor's Centre or Middleton Beach is available Friday and Saturday. Sunday we will be at the Albany Classic Motor Event until approx 4:30pm with our Big Red Fire Engine and Harley Davidsion Motorcycles. Delveries and pick ups will be done after that event.

For those of you requiring a bicycle for Sunday, delivery can be made Saturday evening at no extra charge. Some bicycles with baby seats and tag-a-longs are still available at the time of writing.
Yes, the Albany Classic Motor Event is on again this June long weekend.

We weill be there offering Quick Thrills and Joyrides on the Harley and Harley Trike. The Big Red Fire Engine will also be there for short tours of Albany.

This year is the 70th anniversary of the Albany Classic so its extra special - Don't miss it !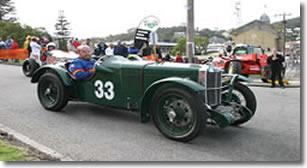 The North Albany School Ball was held on the weekend and what an arrival our girls had!
Tahlia and friends hired the Big Red Fire Engine for their grand arrival to the cheers of fellow ball goers. Before heading to the Ball at Dymsbury Lodge, we did the traditional "Yorkie" down town where they recieved more toots and hoots than any other event we have participated in!

On arrival at the Ball - with the red light flashing and a tinkle of the Bell - everyone knew they had arrived. A fabulous start to a great night.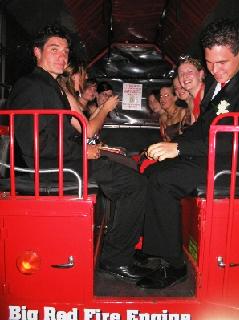 Mother's Day is Sunday 14th May!

..and it's not too late to organise a Gift Voucher for your mum or Grandma

A ride on the Harley Trike is an ideal gift for both and something that will be talked about for years to come. Some spots are are still available for Sunday but a good idea is to present a Gift Voucher and then let them choose the best day and a time that suits their plans. Our attractive Black and Gold Gift Vouchers solve the problem of what to buy....every time.

Whether its a ride on a Harley Davidson for one lucky mum or a Harley Trike ride for a couple, this is a gift that lets many a mother recapture the adventure and excitement of their youth.Voucher are also exchangable between Albany and Perth for your convenience.

Spoil you Mum or Grandmother this Mother's Day with the ride of a lifetiime !!
In Albany, call Julie on (08) 9842 2468
For Perth, Call Chris on (08) 9307 4608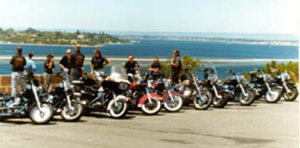 After a couple of nice sunny days, the weather has turned cool with a few showers. As a result, we will not be at the beach all day until the weather improves.

However, bicycle are still available and I will deliver FREE to any accommodation in the Albany city area, Middleton Beach or the Visitors Centre. Just give me a call on 9842 2468 to arrange delivery. All bicycles come with hemelts and Locks.

Harley Rides and Harley Davidson Trike rides are still avaialble too. These can be pre booked by phone.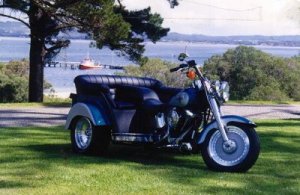 Coming to Albany for Easter?

Down Under Harley Tours will be at Middleton Beach ( by the Surf Club ) over the Easter Weekend and during the School Holidays - weather permitting. Now is the time to pre book your Harley Ride so you don't miss out! And the kids can enjoy a Quick Thrill too with our affordable School Holiday specials.


Rides start from $5 per person and there are seatbelts in the Trike, so need for any family member to miss out. Quick Thrills are $7 and include a special surprise the kids (and mums and dads) will love. A ride through the city centre and around the mountain is only $14. Longer rides are also available.

Check out Little Beach - Australia's prettiest little beach with its sparkling white sands and magical turquoise water. This is an hour's ride through the Two Peoples Bay National Park. You have an option to call into the Marron Farm and Nipper's Cafe. When planning your day, allow an hour and a half for this ride. Cost is only $80 or 2 people on the Harley Trike for $140. Extra if you want to include the visit to the Marron Farm.

Another exciting option is a ride to Torbay . Start out along the Lower Denmark Road, through the farming area where cattle graze peacefully as you roar past. Fams give way to natural bush with the spectacular coastal views of Torbay opening up before your eyes. Cosy Corner and Torbay Hill are very pretty and popular.

The River Run - through the King and Kalgan River areas is also highly recommended - approx 45 minutes (allow and hour) and can include checking out the Alpaca Farm. $60 per person or 2 people on the Trike for only $100

Albany has some fabulous cycling paths and we have a full range of bicycle sizes to cater for all the family, including toddlers. Pre-booking your bicycles berfore the weekend will ensure we have the sizes you need ready and waiting when you arrive.

Free delivery to your accommodation anywhere in the Albany City areas, or pick up from Middleton Beach from Good Friday. We are located near the Surf Club right on Middleton Beach

Bicycle Hire
The Big Red Fire Engine is a fantasic way to arrive at any event you have on at Easter.

The genuine 1959 Fire Engine can take up to 12 adults or 16 children and there are still some times available over the Easter holidays. Fire uo your party and turn any event into a blazing success !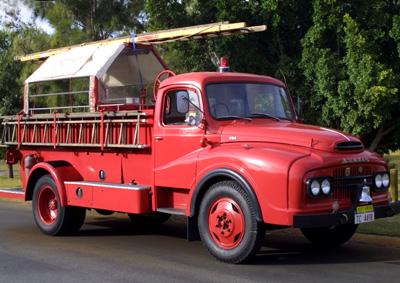 Big Red Fire Engine